---
More Details | Home Page Menu / Return to Gallery Page
View of Hallett Cove in the Morning
38.5 cm (w) x 21.5 cm (h), pastels on acid-free coloured-ground 'Canson' paper.
Date produced: 1988 - 1992
This was produced on-site, after walking from Hallett Cove Beach railway station. I saw this hillside regularly while travelling by train between Christies Beach (a previous home) and the city (on my way to or from work at Wingfield). This drawing/painting was actually done after moving to Glenelg to live.
I was especially lucky with having pale blue still, glassy gulf waters on that day. The sea was particularly calm. I was keen to capture the glow of yellows seen within the landscape.
This particular view within Hallett Cove is no more - the grassy slope (below the railway line) and distant hill are now covered with streets and new homes.
Detail 1: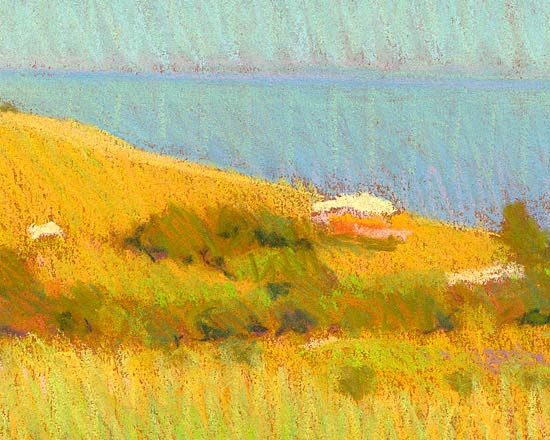 Detail 2: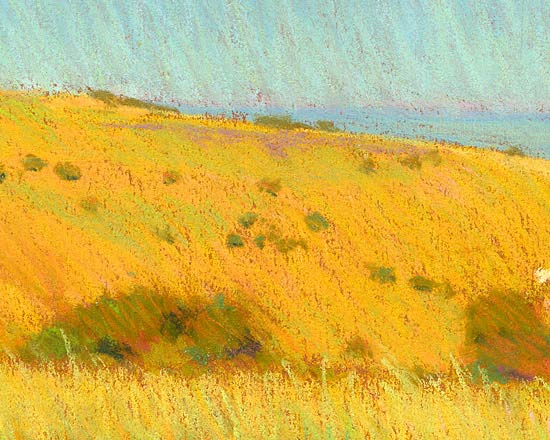 Detail 3: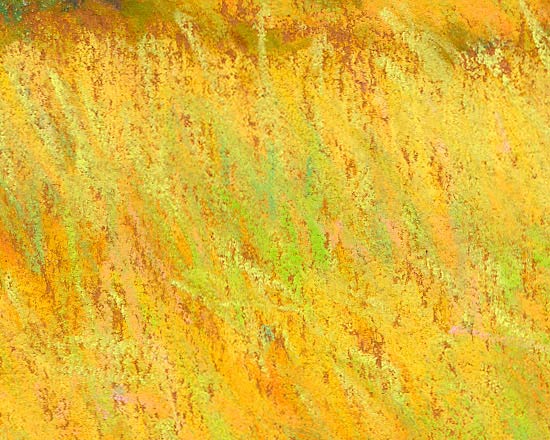 Detail 4: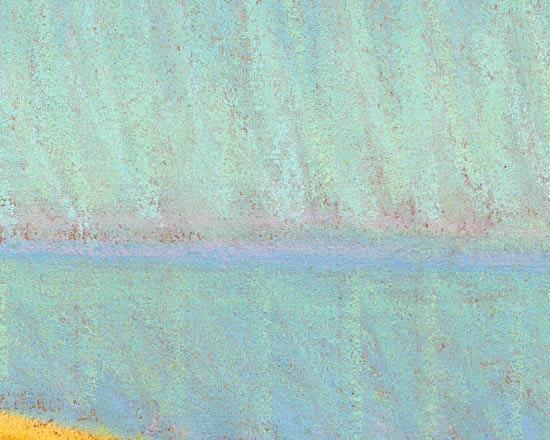 ---
Another related artwork:
Cliffs at Hallett Cove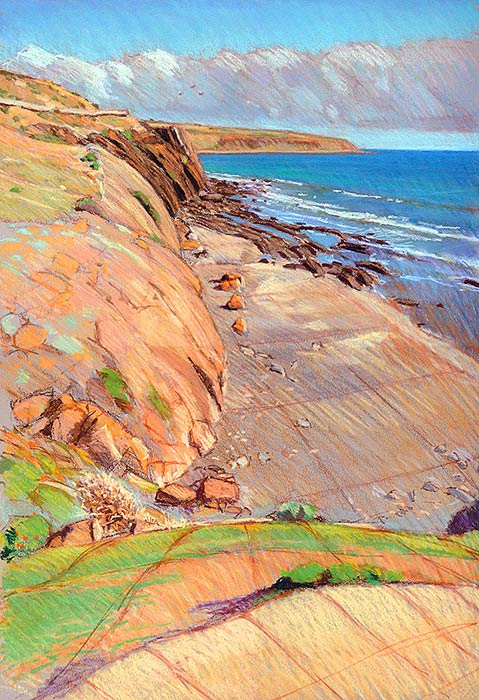 38.5 cm (w) x 55 cm (h), conté and pastels on acid-free coloured-ground 'Canson' paper.
Date produced: October 2000
Drawn on-site at the Hallett Cove Conservation Park, South Australia (a fabulous place to spend time). This was produced over 3 trips to the park, and shows the 'wave-cut' layers of rocks below the cliffs.
While thinking about the ages of the rocks at the park, indicated on signs put up throughout, it felt special to contemplate that many of these rocks formed more than 600 million years ago, a point in time before when most modern life forms developed on our planet. Some of these rocks may have formed when the atmosphere was very different to the way it is now - without the same level of oxygen. These rocks are lying in the sun now, 'witnessing life' on this day.
Much of the park feels as if it's from a more primitive world, and yet, a world that is much more real and open than many of the places I spend most of my time in; Hallett Cove Conservation Park always feels refreshing to my very being.
Larger Image: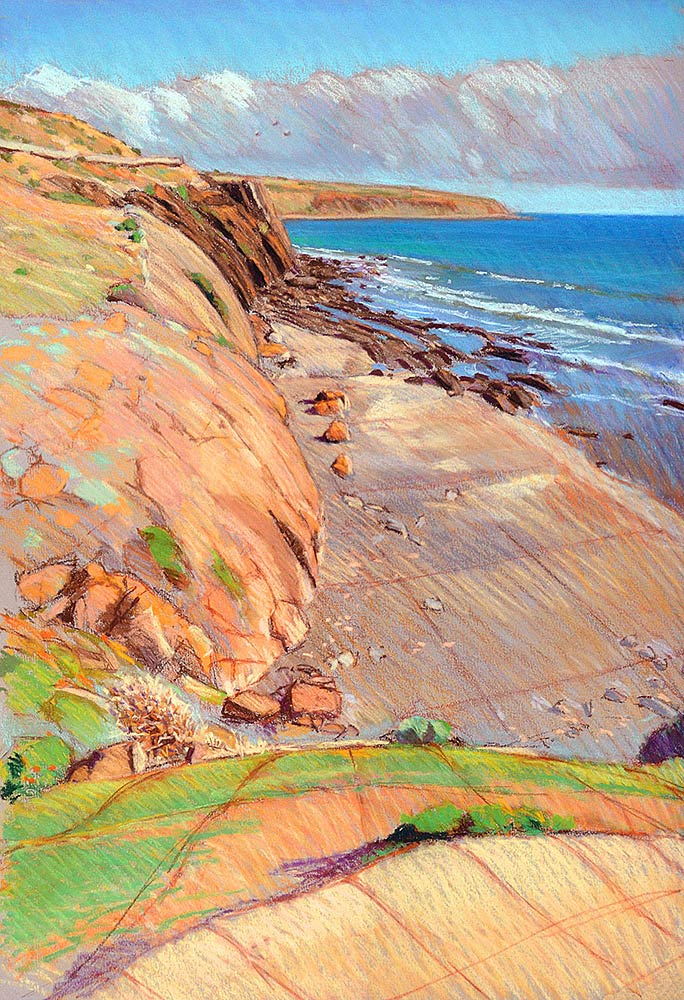 Detail 1: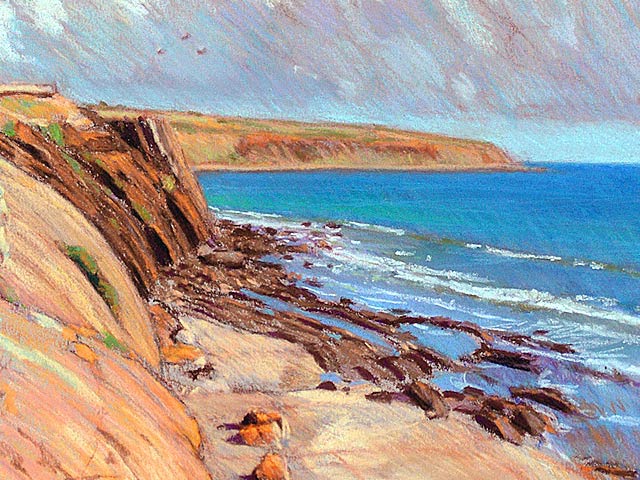 Detail 2: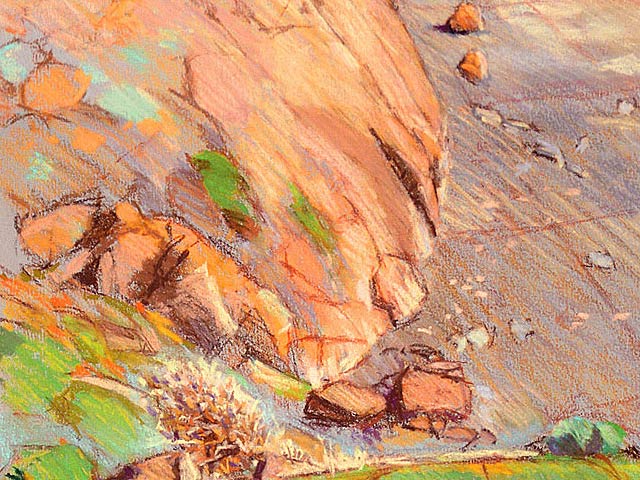 More Details | Home Page Menu / Return to Gallery Page
---