---
More Details | Home Page Menu / Return to Gallery Page
The Bridge, in the Pine Forest at Flinders University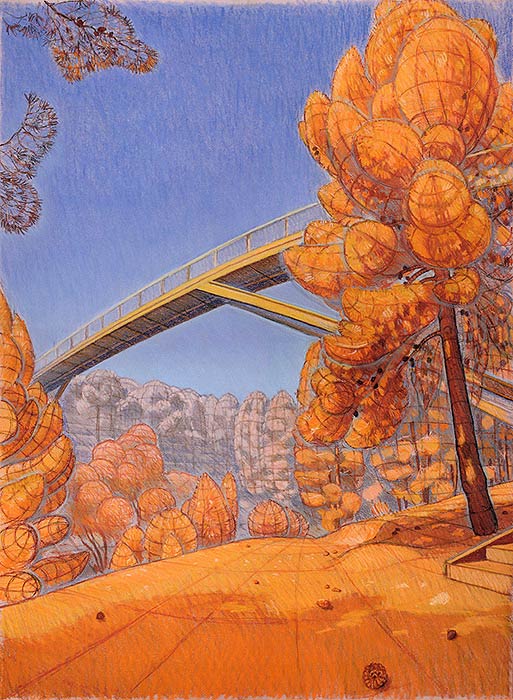 55 cm (w) x 75 cm (h), conté and pastels on acid-free coloured-ground 'Canson' paper.
Date produced: March 2001
Drawn on-site, near the foot-bridge that spans the pine forest at Flinders University. It was the impact of the 3-dimensional structure and the imposing band of the footbridge that were the main reasons for this drawing. I've used an exaggerated aerial perspective within the colouring, to help express the forms, structures, and hopefully even the 'breathing' air around everything.
What I particularly enjoy about this pastel, is that I am using colour as a way of expressing something that colour isn't usually used for - expressing form and the space around objects or 'masses'. Visually, it is departing from a truly experienced vision, but the departures are made for the expression of aspects of reality (experiencing the 3-dimensional forms and spaces in the scene).
Larger Image: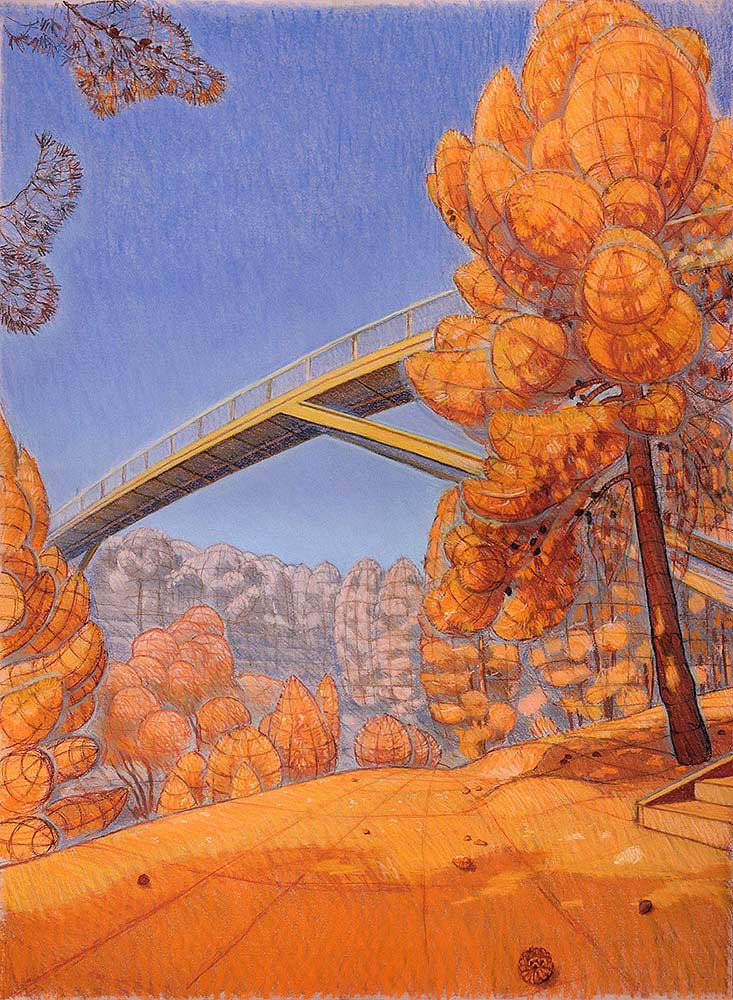 Detail 1: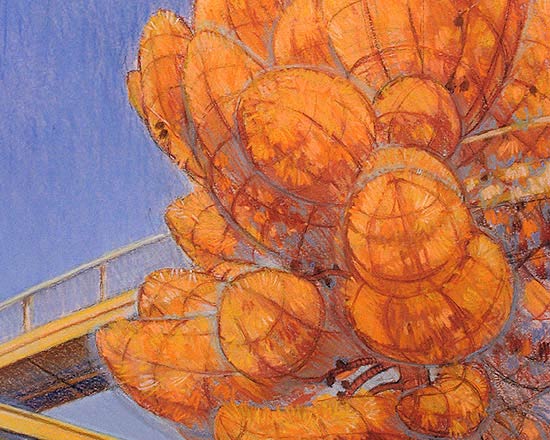 Detail 2: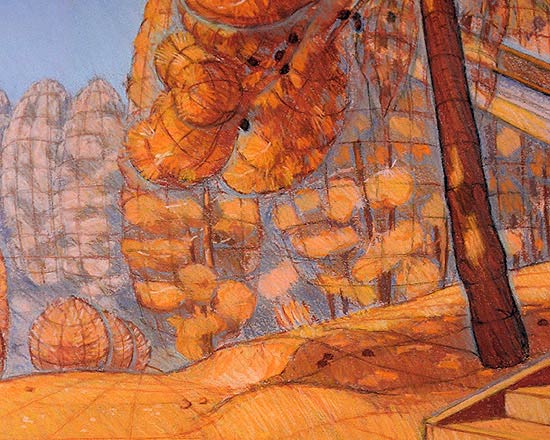 ---
Another related artwork:
Temple of Zeus, Athens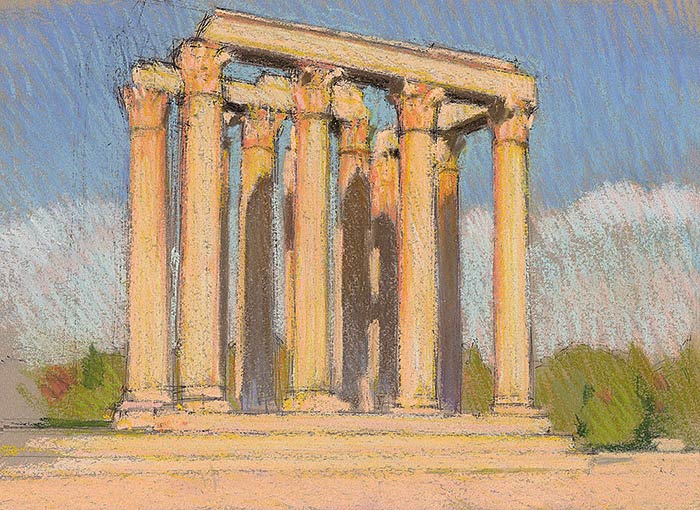 27 cm (w) x 18 cm (h), pastels over black biro on acid-free coloured-ground 'Canson' paper.
Date produced: 5th October 2002
Drawn on-site during a trip to Greece.
The Temple of Olympian Zeus would have been enormous. The height of the building would be about the same as a 4 or 5 storey modern building. The length of the base was about 100 metres.
At the Temple of Olympian Zeus, the columns have Corinthian capitals. This site was generally very quiet, with perhaps only about 20-30 people spread out over an area the size of about 3 or 4 football fields. It was a very pleasant spot to ponder the achievements of the past, and present.
I wanted to try to capture some of the colours reflecting off the ancient marble standing in the afternoon sunlight. I also wanted to get the general proportions set out accurately. I am happy with the resulting sense of light, and grace. This was produced on 5th October, our last day in Greece after returning from our visits to Spetses, Monemvassia, and Tripoli.
Detail 1: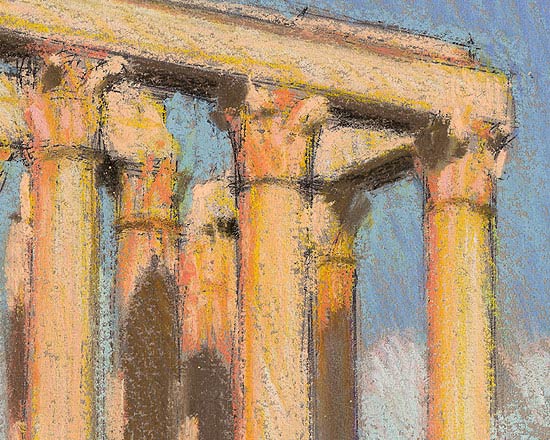 My image doesn't look very graceful when seen close-up, but I had to work extremely quickly. I guess I always need to work quickly when producing drawings or paintings directly from outside subjects, but overseas on holidays with my wife waiting patiently, I only had one limited session in which to produce something meaningful, so I needed to work extremely quickly.
Detail 2: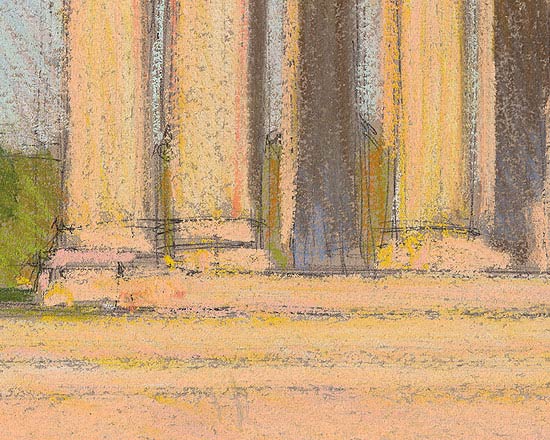 Detail 3: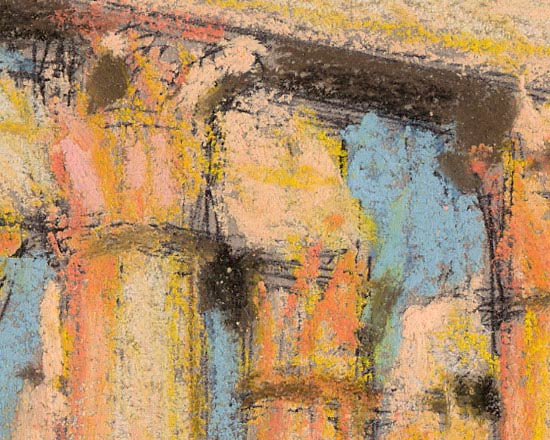 More Details | Home Page Menu / Return to Gallery Page
---