---
More Details | Home Page Menu / Return to Gallery Page
Cliffs of Witton Bluff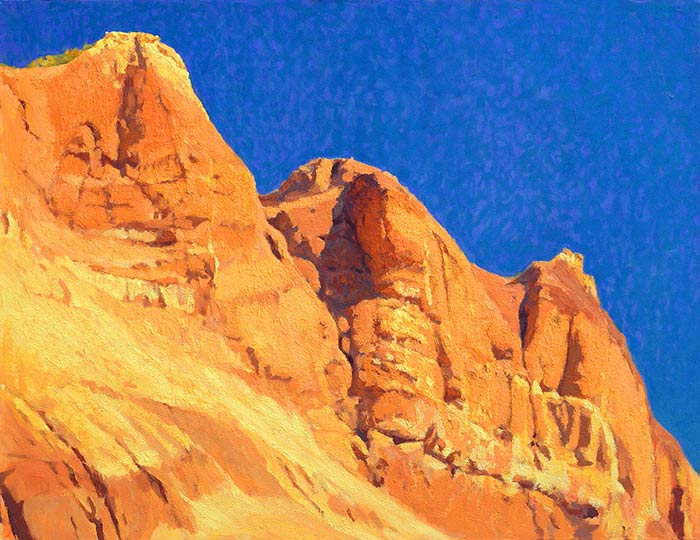 65.5 cm (w) x 50.5 cm (h), oil paints on stretched paper.
Date produced: While living at Christies Beach (1986 - 1987)
Painted entirely on-site, at Witton Bluff, Christies Beach, S.A. I spent many afternoons working on this painting, out on-site. I found this particular section of cliffs to be very striking and interesting. The glow of the cliffs made the sky look very rich and quite deep in colour. I remember struggling to decide on the right colours to use for the expression of the stunning glow of the cliffs in the sunlight in front of me. This is because paint can't match the intensity of light and colour being reflected off the cliffs in full sunlight. There was a conflict between matching the observed colours in the scene, with having the painting express the intensity of light and colour coming off the sunlit cliffs. To express the rich intensity of the light and colour coming from the sunlit cliffs, I found that I needed to use bright yellows in my paint mixtures and constantly check the way they felt.
I took a photograph of the cliffs at around the same time (in 1986 - shown below) from a similar spot to where I was sitting to do this painting, but at a slightly earlier time in the afternoon. I know that I was surprised by the result - that film seemed to "see" or be sensitive to the relationships of the tones in the cliff a little differently to the receptors in my eyes. I shouldn't have been too surprised really.
Photograph of the cliffs: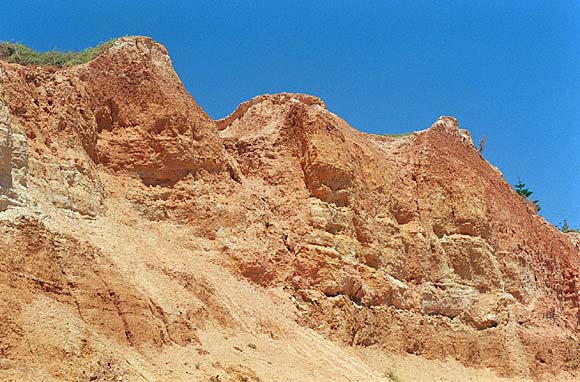 Detail 1: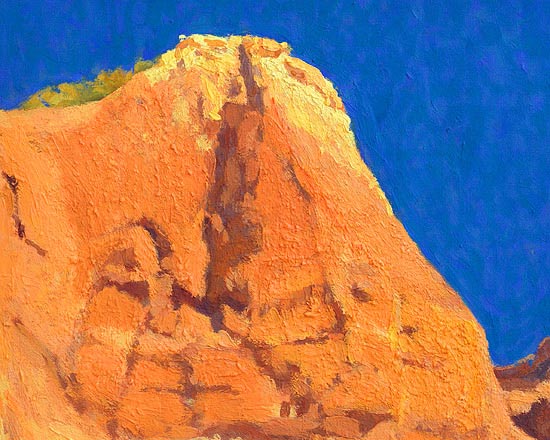 Detail 2: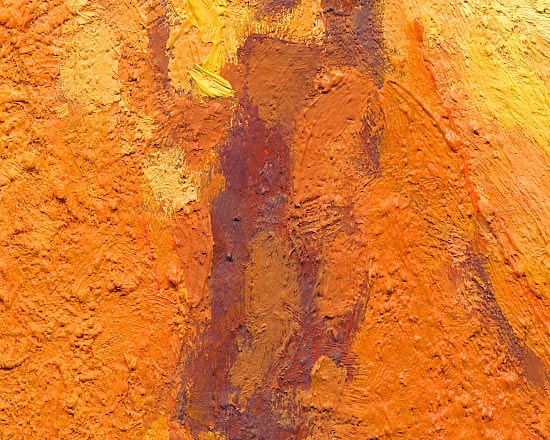 Detail 3: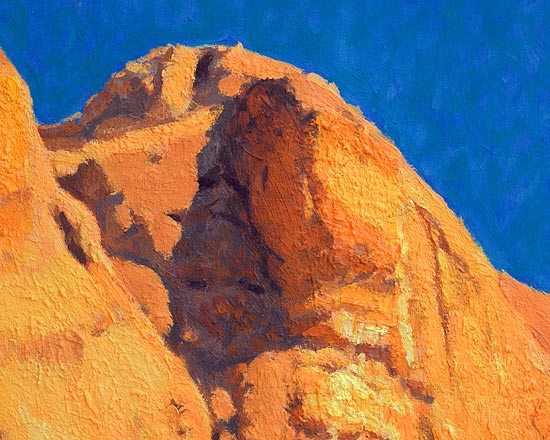 ---
Another related artwork:
Sunset with Wide Cloud Bands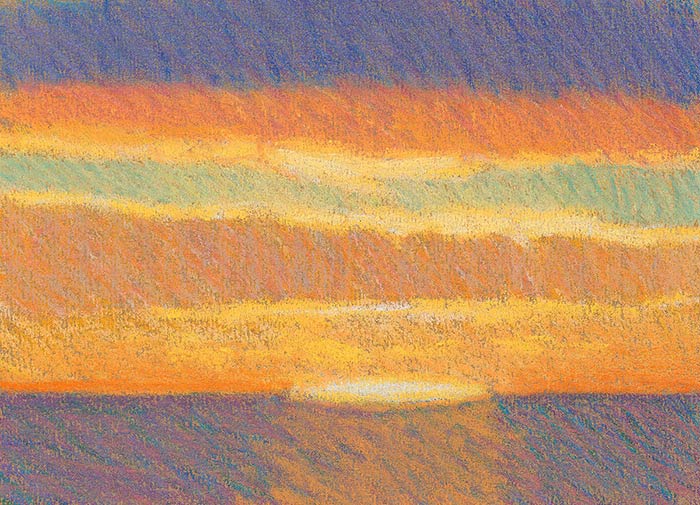 17 cm (w) x 12.5 cm (h), pastels on acid-free coloured-ground 'Canson' paper.
Date produced: While living at Christies Beach (1986 - 1987)
Produced directly from observation, on-site. While living at Christies Beach, I had a very good view of the western sky over the sea from my flat (which was on the esplanade, along the edge of the sea). It was ideal for doing many small studies of sunset skies, like this one.
I like using pastels, because they allow me to work quickly and directly from the scene in front of me. Applied pastel colours are already dry, and so do not change 'as they dry', like applied colours do when using acrylic paints and even oil paints. I can also experiment with how I might be able to express the light and tones of real scenes that have dynamic levels of light, etc., by using the gamut of colours that are available when using pastels on paper. I don't need to worry about mixing all of the colours I use from just a few primary ones, as I do when I paint with oil paints. I try to use a wide range of pre-mixed colours of pastels as much as possible, but still usually find that I need to quickly 'layer' two or more of these colours to get the actual colour I want.
Detail 1: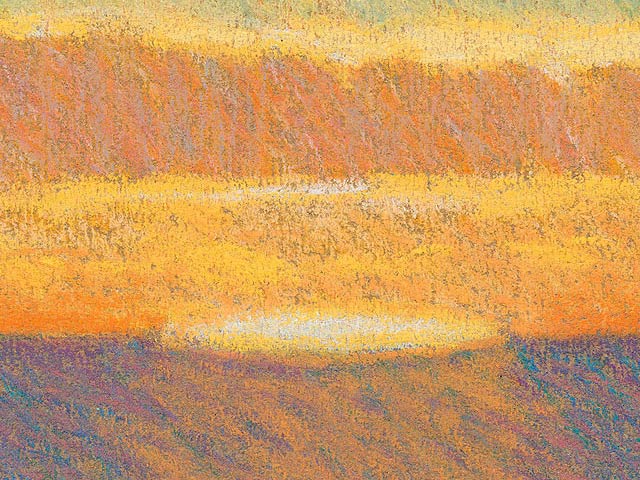 Detail 2: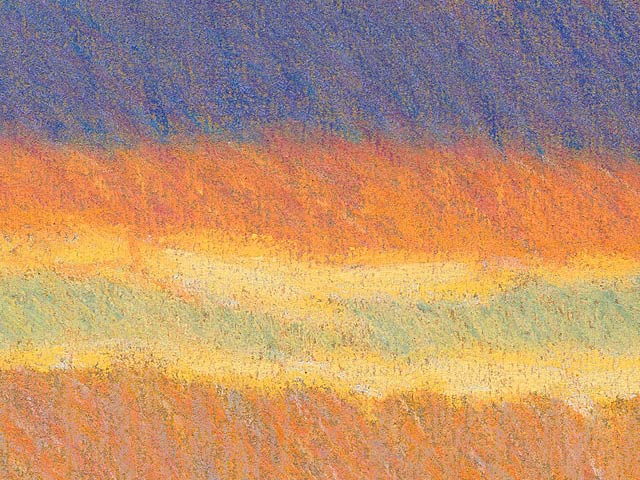 Detail 3: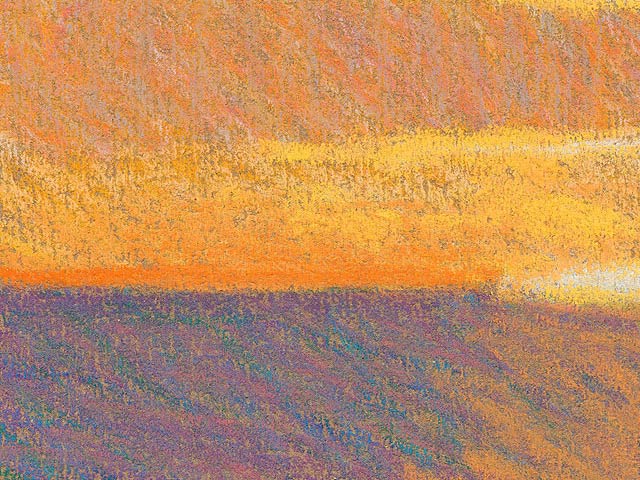 More Details | Home Page Menu / Return to Gallery Page
---